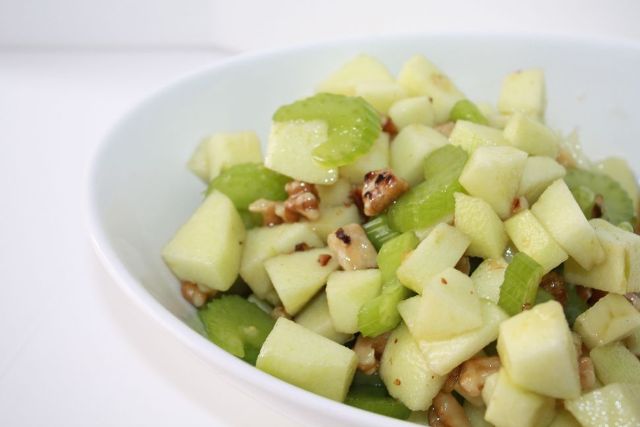 Recipe with thanks to blog.mightyleaf.com
Ingredients:
1/8 tablespoon fresh lemon juice
1/8 tablespoon Dijon mustard
2 teaspoons honey
¼ cup
Mighty Leaf Tea Rainforest Maté
tea reduction
¼ cup extra-virgin olive oil
½ cup celery, sliced on the diagonal
2 medium Granny Smith apples, peeled, quartered, cored; each quarter then thinly sliced crosswise
1/4 cup walnuts, toasted, chopped
Salt and pepper to taste
Directions:
Whisk first 4 ingredients in small bowl to blend.
Gradually whisk in oil.
Season vinaigrette with salt and pepper.
Combine celery, apples, and walnuts in large bowl.
Add vinaigrette and toss to coat.
Season salad to taste with salt and pepper.
TO MAKE THE RAINFOREST MATÉ REDUCTION:
Use 2 Tea Pouches to brew I cup of tea following the prescribed 5-minute brew time. Then reduce the tea on medium heat to about one quarter cup.