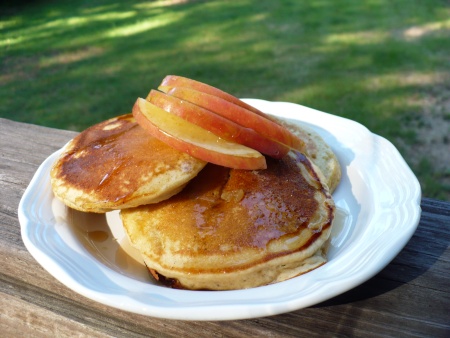 Today is Imbolc or as we call it in Belgium: Maria Lichtmis, a day on which traditionally one eats pancakes.
Yesterday I posted a recipe for nutty pancakes and if you scroll down you can find a recipe for Chamomile Pannkakstårta. You simply MUST try these once in your lifetime! (zondag 18 januari)
Today I give you 2 recipes for Green tea pancakes
Ingredients
:
2 1/2 cups all purpose flour
1/4 cup sugar
2 tsp matcha (green tea powder)
2 tsp baking soda
2 tsp baking powder
1 tsp salt
2 cups buttermilk
2 cups sour cream
2 large eggs
2 tsp vanilla extract
Directions
:
Mix the dry ingredients together and whisk in the wet ingredients.
Stir untill mixed but still lumpy.
Melt butter on non-stick pan over medium heat and add batter by 1/4 to 1/3 cupfuls.
Once it bubbles on top of batter, turn it over and cook about another 3 mins. or til golden brown.
Transfer to plate.
Heart Healthy Oatmeal Green Tea Pancakes
Ingredients:

3/4 cup fat free milk
1 flavored green tea bags or 1 tsp loose leaf tea
1 tbsp honey
1/2 tsp vanilla
1 cup old-fashioned rolled oats
1/2 cup buttermilk
1 tbsp canola oil
1 egg
1/2 cup whole-wheat pastry flour
1/2 tsp baking powder
1/2 tsp baking soda
1/4 tsp kosher salt


Directions:

Bring the milk and honey to a light simmer (you do not want it to actually boil at all) on medium heat.
Remove from heat and add the tea bag or the loose leaf tea in an infuser.
Let steep 3 minutes.
It will smell very good.
You will be tempted to drink some but don't — you need the green tea milk for the pancakes! Discard tea bag or remove infuser. Press on tea to get all of the milk out.
Add the vanilla and stir.
Cool the tea/milk mixture to room temperature.
Stir the infused milk into the oats and let stand 15 minutes.
Whisk together the buttermilk, oil and eggs.
Stir in the oatmeal mixture, flour, baking powder, baking soda and salt.
Coat skillet with nonstick cooking spray.
Place on medium-high heat.
Drop batter by 1/4 cups onto the griddle.
Cook 2 minutes, or until bubbles appear on the top and the edges begin to look dry.
Turn and cook 1-2 minutes, or until lightly browned.
Serve with maple syrup and fresh fruit. Or bacon.