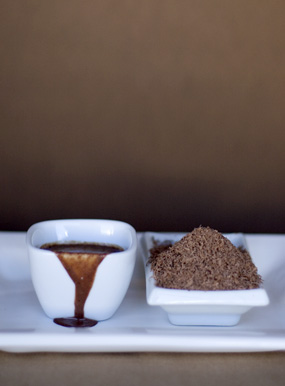 Not exactly a cookbook per se - I couldn't help but pick up a copy of the new Teany book. New Yorkers know Teany as the vegan-friendly, hip, contemporary tea shop opened in the Lower East Side by Moby and partner Kelly Tisdale.
I picked up Teany - the book, because I was interested in learning a bit more about various types of tea, and also looking for new ways to prepare or use it in my everyday cooking or life - infusions, etc. The recipes for Chocolate and Green Tea Pudding as well as the French Toast with Plum Syrup immediately jumped out at me. Wayne tagged the Cashew Butter Sandwich to try later this week for lunch.
Other things I like in the book - there is a neat health and beauty recipe chapter with directions on how to make mouthwash from goldenrod, elderflowers, and peppermint. The chapter also includes directions for a luxurious looking rose petal foot soak, and of course the ubiquitous puffy eye tea treatment where you hang out with herbal tea bags over your eyes.
There is a page that will show you how to decaffeinate your own tea - so you non-caffeine drinkers aren't just limited to the decaffeinated selections of your local tea section or shop. There are also one-page bios on a handful of different types of caffeinated teas: silver needle, yerba mate, pu-erh, monkey-picked teas, and jasmine pearls.
The recipe breakout in the Teany book seems divided between sandwiches, tea coolers, a couple soups, a couple sweets, and some tea-free, spiked favorites like sangria, raspbellinis, and champagne mojitos.
I would estimate that recipes make up about half of the overall page count of Teany. The rest of the book functions sort of like a yearbook, telling the story of the shop, the tale of Kelly and Moby's friendship, shout outs to friends, and other miscellany.
The Chocolate and Green Tea Pudding today is vegan. No dairy at all, yet look at the picture - can you believe how creamy it looks? The consistency is beautiful, quite light and mousse-like. It was very easy to make, and would make a nice, rich chocolate treat the next time you have a mixed-crowd of friends over. I used Nasoya brand tofu (a combination of silken and soft) in the recipe, and the flavor was pretty good. Tofu makes up the body of those pudding so it is important to get one with the right flavor or the pudding will taste a little weird. Also, be sure to use top notch chocolate chips. I liked the simplicity of this recipe, but might play around with a few different brands of tofu before I stick to one. Maybe someone with an inside track at Teany can tell me what brand they use and email me.
The other idea that came to me as I was making this was to try it again in the future, swapping out the green tea and going for more of a Mexican chocolate base, maybe with a splash of Kahlua? Yum. Either way, make sure you serve the pudding well chilled. It really does make a difference in how the pudding tastes, the mouth feel and texture. It's not like dairy based pudding which tastes so good warm.
As far as the directions go, they are straight-forward. I took the liberty of straining the tea leaf infused chocolate soy milk into the food processor to get rid of the tea leaves after the milk had been infused. I think that might have been an oversight in the printed recipe but not positive. Enjoy!
Ingredients:
1 cup chocolate soy milk
1 tablespoon loose green tea leaves
10 ounces (one bag) semisweet vegan chocolate chips
12 ounces silken tofu
1/4 cup soft tofu
2 tablespoons matcha tea (green tea powder, available at any good tea shop), optional

Directions:
Pour the chocolate milk and tea leaves into a small pot and bring to a boil. Turn off heat and let the chocolate milk cool. Melt the chocolate chips in a double boiler (or you can do this in a small pot over low heat, stirring constantly).
Put the soy milk mixture (Heidi: this is where I strained it), melted chocolate, silken tofu, and soft tofu into a food processor. Blend until totally smooth. Put into individual cups or bowls, and refrigerate for at least one hour.
Before serving, take a paper doily or any other design cutout and lay it over the pudding.
Generously powder the top of the doily or cutout with the matcha. Lift the doily or cutout, making sure not to disturb the design you just made. Serve immediately.